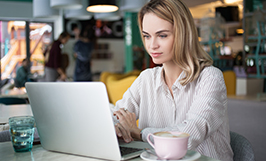 This blog is a place of creativity, inspiration and guidance. I, Nicole, created this blog in 2017. I am currently a senior in college studying public relations and running this blog to provide help to my fellow students. What once started off as an outlet to vent my own frustrations, this blog has become a place to help out students with their college essays, and to provide examples they can seek inspiration from.
As you go through my archive, you will see that as the years have gone along, I myself have become more proficient at college essay writing, and I have documented this journey for the benefit of other students. I don't want other students to miss out on the opportunity and help that I wish I had received when I started college.
Most of the advice and content on my blog is targeted at those entering college for the first time and trying to assimilate themselves with the radically different essay writing techniques required compared to high school. However, even if you think you have mastered college essay writing techniques, then there are still many other tips that can be useful for you and I still highly recommend that you follow and read my blog.
Alongside posting tips and personal anecdotes of my own journey to perfect college essay writing, I will also be posting essay examples submitted by guest bloggers. This will also include commentary to help guide you on how to compose great essays that score high marks.